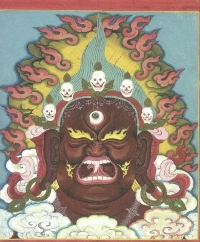 Mamo Chants - Dön Season
Shambhala Day - Monday 24th February - marks the end of one year's cycle and the beginning of a new one. To dispel the karmic accumulation of personal, social, and environmental chaos at the year's end, we are all encouraged to practise as much as possible in the period just before Shambhala Day. In particular, we are encouraged to recite the Mamo Chants together, beginning eleven days before Shambhala Day.
Mamo Chants will happen every evening between Tuesday 12th February and Saturday 22nd February from 7:30 - 9:00pm.
The Mamo Chant is an elaborate protector offering traditionally recited from the twentieth through the twenty-ninth days of the last lunar month of the Tibetan year. By reciting the chant, we tune into the protector principle of awareness and re-connect with sacred outlook.
The day before Shambhala Day, Sunday 23rd February, is considered "neutral" and is a traditional time to clean and refresh one's home and shrines in preparation for the coming year.
Please contact [email protected] to check if the event is definitely going ahead on the evening you wish to attend.