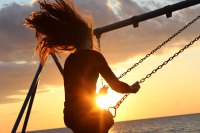 Awakening Joy and Equanimity
with Peter Conradi
The Four Immeasurables are often taught in the following order: Love, Compassion, Joy and then Equanimity. However one tradition privileges the contemplation of Equanimity since this can help stabilize the mind; equanimity can therefore offer a doorway to the other contemplations. And in fact each helps the others. Love and compassion undercut indifference; joy and equanimity cut attachment. All four work together as aspects of our journey.
We will start by recapitulating the teachings given earlier on by Shastri Tessa Watt on the first two limitless ones - Love and Compassion. So it is not necessary to have attended the first weekend in order to join this second one.
These practices are called Immeasurable because there is no limitation to their depth or scope. "The aim of loving-kindness… is to experience peace and to cause others to become peaceful. The aim of compassion… is to separate the cause of pain from the pain itself. The aim of joy is to help people experience pleasure without causing themselves pain... The aim of equanimity is to free people from passion and aggression." It is good to start by generating these for our own benefit, and by acknowledging and appreciating our own suffering, before moving outwards towards others. These simple and powerful techniques have been used for centuries in Buddhist traditions and are now widely practiced in mainstream settings like workplaces and schools. They are skilful means to arousing egolessness, compassion and to awakening the heart.
This weekend is suitable for newcomers to these practices, and also for people who are familiar with them and would like to deepen their experience. There is no need to have a particular interest in Buddhism: if you are a practitioner of secular mindfulness, this 'heartfulness' is a natural next step in your journey. It would be helpful to have some experience of basic sitting meditation or mindfulness practice.
This weekend is part of 'The Way of Compassion' series of weekends. You are welcome to attend this, or any of the other weekends, as a one-off programme, or to deepen your experience by following the whole series.
About the teacher
Peter Conradi is Emeritus Professor of English at Kingston University, an elected Fellow of the Royal Society of Literature, and a freelance writer, whose books include Iris Murdoch: A Life and Going Buddhist. His most recent books are Family Business: A Memoir and A Dictionary of Interesting and Important Dogs.
Payment
Cost of the course is £130. An Early Bird price of £110 is available until Saturday 11th January 2020. A concession cost of £80 or £60 is available according to income level. Please contact [email protected] to apply for a concession.
Shambhala Volunteers - 50% off (to attend as a participant)
It is traditional on Buddhist programmes to have the opportunity to offer the teacher what we call a heart gift. This is an entirely voluntary possibility to offer a financial gift to the teacher, in appreciation of their willingness to devote their time and energy in sharing these teachings.
Payment Terms and Conditions
Please register and pay in full on registration, to pay by card - please click through to PayPal where there is an option to pay by card without having a PayPal account. Cancellation up to 1 week before the programme will receive a full refund, after that there will be a £20 fee charged for cancellation up until the 24th January 2020 after which no refund is granted.