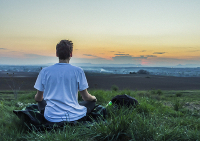 Basic Goodness Retreat: Feel Human Again (Shambhala Training Level 1)
with Jane Hope
Open to students at all levels of practice (half price to those who have previously attended Level 1)
"Feel Human Again" is a weekend retreat devoted to the practice of meditation and the discovery of basic goodness. Open to everyone, whether you want to learn meditation for the first time or whether you are already an experienced meditator.
"Human greatness does not lie in wealth and power, but in character and goodness. People are just people, and all people have faults and shortcomings, but all of us are born with a basic goodness." Anne Frank
"…basic goodness is good because it is so basic, so fundamental. It is natural and it works, and therefore it is good, rather than being good as opposed to bad." Chogyam Trungpa
"If we pause and breathe in and out, then we can have the experience of timeless presence, of the inexpressible wisdom and goodness of our own minds. We can look at the world with fresh eyes and hear things with fresh ears." Pema Chodron
This weekend retreat is an opportunity to deepen both our training in and understanding of the practice of meditation. It is ideal for students who have recently begun, but also for those have been practicing longer, to re-connect with their initial longing and inspiration. The teachings are at the heart of Buddhism and Shambhala Training. Whether you have attended Shambhala Training before or not, the teachings presented here are always fresh. They remind us, as if for the first time, to trust ourselves, how to live a sane and good life, how to relax and see beyond the confusion and suffering of everyday life. We all have the capacity to do this, but we need a way of connecting with our basic goodness, our awakened heart, our soft spot. Meditation practice strengthens and develops our courage and cuts anxiety. Retreats, even short ones like this, help us to remember to keep the practice of meditation as a stable core in our daily life.
About the teacher
The retreat will be taught by Jane Hope, senior Buddhist and Shambhala teacher, painter and author of three books on Buddhism and meditation.
About Level 1
Shambhala Training Level 1 is designed for new meditators or those looking to reconnect with meditation practice. Our senior teacher will incorporate teachings on awake living into meditation instruction and informative talks. Students leave with the tools they need to bring a mindfulness meditation practice into their daily lives.
Shambhala Training Level 1 includes:
Guided meditation practice

Mindfulness meditation talks

Optional one-to-one meditation instruction

Concluding Sunday reception
Further Information
9am - Tea/coffee & registration
Lunch will be provided, any allergies please include details in the comment box on the registration screen.
Feedback from recent courses
"Loved the talks, and everyone was so open to each other's opinions and experiences"
"Having done retreats before I consider this venue and organisation excellent and will definitely come again"
"I got all the answers I came for and am excited about my practice"
"Impressive support by staff and volunteers – very professional"
To reserve a place on this course please register and pay in full. Early registration is advised - places are limited to ensure quality support, and we anticipate this course will be fully booked.
Payment Terms and Conditions
Please register and pay in full on registration, ensuring you click on the relevant price option to go through to PayPal where you can also pay by credit/debit card. Cancellation up to 1 week before the programme will receive a full refund, after that there will be a £20 fee charged for cancellation up until the 17th January after which no refund is granted.
The early bird registration fee of £110 is available until 4th January after which time the fee will be £130. A concession fee of £80 is available for those earning below £17,000 per annum and a concession fee of £60 is available for those earning below £12,000. Please contact [email protected] to request a concession.
Repeat attenders
If you have previously attended this level and would like to do so again, you may attend for 50% of the price of either the full cost or the concessionary cost, depending on income, so either £65, £40 or £30.
For further information please email: [email protected]
Please follow this link to information on the allegations of sexual misconduct in Shambhala