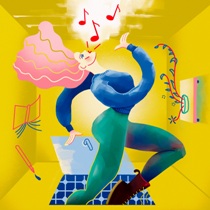 Live Space
with David Schneider
Open to all!
Certain kinds of psycho-physical space support inspiration and the creation of art, especially dharma art. The same thing could be said more generally: particular psycho-physical spaces help us live in a mindful, brave, authentic way. But which kinds of spaces are these? How can one find them? Create them? Enter them?
This weekend program will draw on exercises and teachings from the Dharma Art tradition. The aim is to open and investigate space - physical, mental, emotional space, sonic, visual, sensual space; personal and social space - as well as the creative activities that (can) happen there. Where do you live?
Open to all.

Teacher
Dharma Art teacher David Schneider has practiced calligraphy since 1970, specializing in the Sanskrit alphabet Siddham. He is the author of two biographies: Street Zen, The Life & Work of Issan Dorsey; and Crowded by Beauty, The Life and Zen of Poet Philip Whalen. He served as an Acharya from 1996-2019.
Cost
The early bird registration fee of £110 is available until 7th March 2020 after which time the fee will be £130. A concession fee of £80 is available for those earning below £17,000 per annum and a concession fee of £60 is available for those earning below £12,000. Please contact [email protected] to request a concession.
Payment Terms and Conditions
Please register and pay in full on registration. Cancellation up to 1 week before the programme will receive a full refund, after that there will be a £20 fee charged for cancellation up until 18th March 2020, after which no refund is granted.
Further Information
9:30am - Tea/coffee & registration
10:00am - Start
6:00pm - Finish
9:30am - Tea / coffee
10:00am - Start
5:00pm - End
Lunch will not be provided. There are a number of cafes, restaurants and local supermarkets in the area, as well as a food market on Saturdays just a few minutes from the centre.

For further information please email: [email protected]