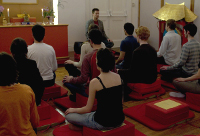 Sunday Morning Sitting
Once a month the community are invited to meet and practise together on Sunday morning sitting sessions. These sessions take place once a month as part of the Centre's Community Weekends.
Outline
Tea and coffee are served from 9:30. Chants open the practice of sitting meditation at 10:00. Chants are in English and contain a poetic evocation of our lineage's view and heritage. Chanting together allows practise of synchronising body, speech and mind. Sitting and walking meditation takes place over two hours in functional silence.
The sessions close with maitri bhavana practice. The Sanskrit word maitri means friendliness, or loving-kindness, while bhavana means cultivating or generating. So maitri bhavana is the practice of expanding loving-kindness without limits, or unlimited friendliness. It is offered for those in, or known to, the community, who are seriously ill, either physically or mentally. A short instruction is offered prior to the practice.
If you want to have your name or someone else's name included please write to: [email protected]. Typically the name of the person suffering and the name of their illness/complaint are provided. This will be read out during the practice.
The sessions will close at 12:20. After the sitting, participants are invited to arrange lunch together in Clapham's many restaurants, pubs and cafes.
Other information
The sessions are for people with an established meditation practice as meditation instruction will not be available. For example regular attendance of a Monday or Wednesday session, having attended a Learn to Meditate, Everyday Life or Shambhala Training programme.
To protect the practice environment and support others, please commit to attending the full session duration, wherever possible. There is a suggested donation of £5-7 per person to support the Centre's operational costs.
Sunday sessions in 2020 will take place on the following dates:
5th January, 2nd February, 1st March, 5th April, 3rd May, 7th June, 5th July, 2nd August, 6th September, 4th October, 1st November, 6th December.
If you have any questions please contact [email protected]