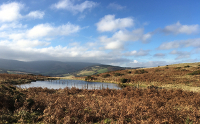 Bleddfa Retreat: Bravery and Compassion
with David Schneider, Peter Conradi, Diederik Prakke, James O'Neill
Bleddfa retreats started in 2011 and have proved a wonderful environment for both beginners and experienced practitioners to deepen their meditation— to strengthen groundedness and self-confidence, and to bond with a peer-group.
The focus of retreat practice is to work directly with awakening the mind, and opening the heart. This year we will offer teachings on bravery and compassion, and the connection of both of these with shamatha meditation, (shiné, in Tibetan) translated into English as "calm abiding." Shamatha—one of the most fundamental, profound, and life-changing Buddhist practices—is the basis for developing mindfulness and awareness.
Chogyam Trungpa Rinpoche – at every stage of his teaching career – recommended that shamatha be a root element of retreat practice specifically for Westerners. This year's program will be led by David Schneider and Peter Conradi, both of whom have directed many retreats; the program will also be supported by Diederik Prakke and Jim O'Neill.
Main meals will be Oryoki style, a mindfulness practice from the Zen tradition. Accommodation either at Bleddfa (dorms and camping in the orchard) or single/double rooms at Cwmygerwyn. Contact [email protected] for further info. Spaces are strictly limited and early application advised.