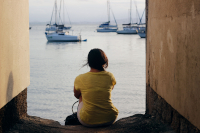 The body: our gateway to wakefulness - Open House Talk
with Shastri Tessa Watt
When we come to meditation or mindfulness we might think that it's mainly about the mind - and yes, becoming familiar with our patterns of mind is part of the journey. But the bedrock of our practice is the body: learning or re-learning how to be fully embodied. The body is the gateway to the vastness and richness of this moment - our gateway to presence and wakefulness.
We will look at the role of the body and senses in meditation practice, and explore this experientially through guided practice and discussion.
These Open House Talks are a great introduction to meditation and the Shambhala Buddhist teachings. The evening will include meditation practice and a talk by one of our senior teachers. It is an opportunity to connect with other people interested in meditation.
Open House Talks will usually take place on the first Monday of the month. Please look out for further announcements on forthcoming Open House Talks in the new year.
There are no pre-registrations for Open House Talks. Please come along on the evening. All welcome.

Timings: 7:30 for an 8pm start.

Cost: Suggested donation £4-£5.

If you still have any questions or concerns please don't hesitate to email us at: [email protected]
Photo by Cassiano Psomas on Unsplash