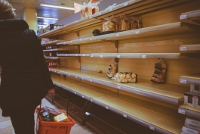 Online - The Co-emergence of Fear and Fearlessness : Teachings for Unsettled Times
with Peter Conradi
One restricted Shambhala text has the lines "Not knowing the nature of fear, it is impossible to realise fearlessness".
We will look together at how our very posture in meditation is designed to invoke our bravery and courage; and also at how fear is central to the Shambhala Teachings and is considered good news. Or rather : at how there is no problem with fear in itself, which is fine, while the fear-of-fear is more problematic.
Timing
Zoom opens 9.20am, start 9.30am, finish 12.30am Please register to receive the Zoom link for this event.
Cost
The fee for this half day is £30. A concession fee of £15 is available for those earning below £17,000 per annum. We don't want cost to be a barrier so if anyone is in financial hardship due to the current situation do get in touch for a further reduction at [email protected]
Please contact [email protected] with any queries
Photo by Boris Dunand on Unsplash