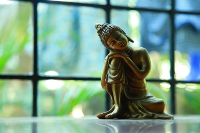 Online - The Three Marks of Existence
with David Schneider
What the hell is going on? It feels like everything we know is falling apart. Our domestic lives, our participation in community, our spiritual endeavors — all of these have changed, often dramatically, often painfully. The same is true on metropolitan, regional, national, and international levels.
According to the Buddha, this is simply to be expected. We are seeing the rules of the game play out.
Among his earliest teachings, the Buddha put forth observations on the nature of apparent existence.
There are conditions to being here, he said, and they apply to everyone and everything.
These came to be known as the Three Marks of Existence - impermanence, (Pali, annica), dissatisfaction (dukkha), soullessness (annata).
To see these, and to understand them, is to overcome ignorance, and head toward nirvana.
Please join us for discussions on the Three Marks. Hour-long, on-line, evening gatherings — one "mark" per evening—will consist of sitting meditation, an exposition on the topic, and exchange —both in group format and in pairs.
Timing
Zoom opens 7.20pm, start 7.30pm, finish 8.30pm. Please register to receive the Zoom link for this event.
Suggested Donation
£10/£7 low wage/£5 concession - however, finances should not be a reason for not participating. The evening is based on whatever people feel is within their inspiration and personal means (the principle of dana, or generosity) - please join us regardless of your circumstances.

Contact [email protected] for more information.