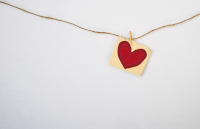 Online - Cultivating Kindness and Compassion in the time of Distancing
with Acharya David Hope
In these difficult months we find ourselves more cut off from others than usual, including loved ones, friends, colleagues, sangha members etc. Emotions are often heightened under stressful conditions, and we may find ourselves reacting angrily, sadly or with depression to all the bad news of government mishandling, lockdown breaking, riots in USA, etc. etc.
We may feel out heart is in lockdown too. It is easy to forget our dharma training in the 'heart practices'. These are such a valuable antidote to the loss of human interaction we may be experiencing.
This 2-part course will introduce these simple meditations to those new to them, and act as a refresher for those who have received them before. The first evening will give the overview and get us started in practice. The second, a few days later, will be a forum to hear how we got on with them at home, and talk over the questions which often arise after practicing on our own. In this way it is a condensed form of a Bodhicitta Weekend such as we have had in the past.
Timing
Zoom opens 7.20pm, start 7.30pm, finish 8.30pm. Please register to receive the Zoom link for this event.
Suggested Donation
£7/£5 low wage/£3 concession - however, finances should not be a reason for not participating. The evening is based on whatever people feel is within their inspiration and personal means (the principle of dana, or generosity) - please join us regardless of your circumstances.

Contact [email protected] for more information.