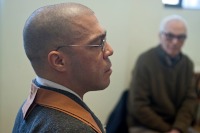 Gay Buddhist Fellowship | Online Talk - The Harmony of Difference and Equality
The Gay Buddhist Fellowship in partnership with Shambhala London are honoured and blessed that Zen priest Dario Doshin Girolami has agreed to give a talk to the GBF group via Zoom.
Dario is the abbot of Centro Zen l'Arco in Rome. He started to
practice Japanese Soto Zen in 1986 and was ordained as a Zen monk at the San Francisco Zen Center founded by Shunryu Suzuki Roshi.
The title of the talk is `The Harmony of Difference and Equality.'
Prior to entering the Zen path in San Francisco he studied Indian and Eastern Religions and Philosophy. Dario holds regular seminar at the faculty of Psychology of Sapienza University, and leads regular meditation courses at the Rebibbia Prison of Rome.
Dario is also the chair of the European Buddhist Union Chaplaincy Network, and co-founder of the European Buddhist Union Rainbow Sangha (chaired by Michael). During his whole Zen path he has been an articulate ally for full equality and acceptance of LGBTQ+ (within Buddhism and within society as a whole). Centro Zen l'Arco was the first Buddhist group in Italy to take part in the Rome Pride.
The session will commence at 2pm with meditation and will be followed by the talk and short discussion at 2.30pm.
Please register if you would like to be sent the Zoom link, which will go out closer to the event.
Heart Gift for Dario Doshin Girolami
If you would like to offer a donation to Doshin Girolami please click the donation button below. Finances should not be a reason for not participating. The talk is based on whatever people feel is within their inspiration and personal means (the principle of dana, or generosity) - please join us regardless of your circumstances.