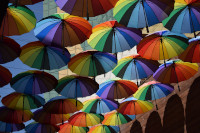 Online - The Effect of Beauty on the Mind
with David Schneider
In the meditation tradition we speak often about mind: "taming the mind," or "training the mind," or "synchronizing body and mind," for example.
We talk less often about what's meant by mind. What is it? What are its constituents? How does it work?
In these two evenings, we will, following the Buddhist abhidharma, first look at different "levels" or "parts" of mind, if such terms can be used. We will then take up the implications of the senses being part of mind, as well as its tendencies to like or dislike or ignore or fixate.
How does beginning to understanding mind this way affect meditation? daily life? communication? social relations from the intimate to the public?
David Schneider began to practice Zen under Shunryu Suzuki Roshi, and continued as an ordained priest under Richard Baker Roshi, at the San Francisco Zen Center. Later he undertook studies with Chögyam Trungpa Rinpoche. David has published two well-received biographies of Zen teachers: Street Zen, about the gay activist and hospice-founder Issan Dorsey; and Crowded by Beauty, a biography of Beat poet and zen master Zenshin Philip Whalen. A calligrapher of many years, David's works have been exhibited internationally. He is a teacher of Dharma Art and lives in Cologne, Germany.
Timing
Start 7.30pm, finish 8.30pm, Zoom opens 7.25pm
Cost
The fee for 2 evening course is £20. A concession fee of £12 is available for those earning below £17,000 per annum, please email for a concession code - [email protected].
We don't want cost to be a barrier so if anyone is in financial hardship, please feel warmly invited to get in touch for further concessions.
Cancellation up to 1 week before the programme will receive a full refund, after that there will be a £10 fee charged for cancellation up until the 21st October after which no refund is granted.
Please contact [email protected] with any queries. A Zoom link will be provided once registration and payment have been completed.