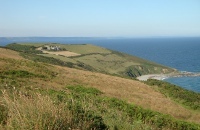 Lamledra October 2020 Retreat - Online
with Barbara Märtens
Understanding and liberating emotional energy: a meditation retreat
A six-day online retreat taught by senior teacher Barbara Märtens and assisted by Jude Hudson. Sunday 4th – Saturday 10th October 2020.
"So the intelligent way of working with emotion is to try to relate with their basic substance, the abstract quality of emotions, so to speak. The basic 'isness' quality of the emotions, the fundamental nature of the emotions, is just energy. And if one is able to relate with energy, then the energies have no conflict with you. They become a natural process." Chögyam Trungpa Rinpoche
In this moment of great challenge for the world, we might want to take this advice to heart and look deeper into our experience of emotional energy. Fear, anger, sadness - all these reactions arising in us in the face of challenge and pain. Instead of driving us deeper into panic, aggression or depression, we can discover how these powerful energies provide an opportunity for wisdom and compassion.
We will approach the topic hrough talks and discussion, practicing shamatha meditation and contemplation. We will have alternating periods of silence and speaking. The retreat is open to all. As a result of Covid-19, this retreat will be held online and not at Lamledra House (http://lamledrahouse.co.uk/index.htm). We look forward to returning to Lamledra in the future.
A typical day will consist of three online sessions: morning: 9.15-12.15, afternoon: 2.15-5.15 and evening: 7-8pm. They will include some or all of the following: guided meditation instruction, meditation practice (including walking), stretches, a talk, individual interviews and discussions in larger and smaller groups. Periods of group silence will be observed.
If you are interested in attending this retreat and would like further information, please email [email protected]. The cost is £100. We don't want cost to be a barrier, however; if anyone is in financial hardship, please feel warmly invited to get in touch for further concessions. The maximum number of participants is 15, so early applications are recommended.