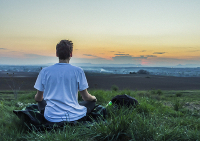 Online - Shambhala Training Weekend I: 'The Art of Being Human'
with David Hope & Tessa Watt
An on-line weekend event devoted to the practice of sitting meditation and introduction to the Shambhala Teachings of Chögyam Trungpa Rinpoche
Open to students at all levels of practice (half price to those who have previously attended Level 1)
This
retreat
is for students who wish to begin Shambhala Training and also for those already on the Shambhala path who wish to refresh and deepen their connection with the practice of meditation. It is the first of five courses which comprise the profound and practical teachings of the Heart of Warriorship, developed by Chogyam Trungpa Rinpoche when his deep background from his Buddhist training in Tibet met the open minds of his Western students.
These teachings are always fresh. They remind us to relax, show us how to live a sane and good life and see beyond the confusion and suffering of everyday life. We have the capacity to do this, but it depends on developing a strong connection with our awakened heart of human goodness through the practice of meditation. This simple discipline develops our mindfulness and lessens anxiety, Even though we find this helpful we can easily let the practice lapse. Retreats such as this encourage us to establish and maintain a regular meditation schedule in our daily life.
The weekend will consist of zoom sessions providing thorough instruction in sitting and walking meditation, talks on the Shambhala teachings, discussion in larger and smaller groups, and one on one meetings with qualified meditation instructors to refine our understanding of the practice. Once the instruction has been completed the meditation periods will be continued on-line but students may practise off-line if preferred. The shorter off-line periods of walking meditation can be taken outdoors if more practical due to space limitations. Regular breaks will be provided so that tea, coffee and lunch can be taken at home
About the teachers
David Hope, a senior Buddhism and Shambhala teacher, studied with Chogyam Trungpa in the 1980's and has been teaching worldwide since that time.
Tessa Watt has been practising meditation with Shambhala for almost 30 years, and was appointed a senior teacher in 2017. For the past decade she has taught mindfulness, both to the general public and in many leading workplaces around the UK including the Houses of Parliament.
Schedule -
Sunday: 10:00 to 4:00
Cost
The early bird registration fee of £75 is available until 21st November, after which time the fee will be £90. A concession fee of £55 is available for those earning below £17,000 per annum and a concession fee of £45 is available for those earning below £12,000.
Please contact [email protected] to apply for a concession.
We don't want cost to be a barrier so if anyone is in financial hardship, please feel warmly invited to get in touch for further concessions.
Repeat attenders
If you have previously attended this course and would like to do so again, you may attend for 50% of the price of either the full cost or the concessionary cost, depending on income, so either £45, £35, £27 or £22. Please contact [email protected] for a discount code.

Payment Terms and Conditions
Please register and pay in full on registration. Cancellation up to 1 week before the programme will receive a full refund, after that there will be a £20 fee charged for cancellation up until the 27th November after which no refund is granted.
Preparing for an online retreat:
It is important to set time aside for the retreat. Setting aside technology during the retreat will be helpful.
Wear comfortable clothing.
Have a good internet signal for zoom sessions.
Find a quiet, clean uplifted environment for the retreat, preferrably away from others in your house.
Tell housemates you're unavailable during practice sessions. You'll be able to catch up during breaks.
Have a comfortable chair or sitting cushion.
The Zoom link will be sent to you the day before the programme, please complete registration and payment to receive the link