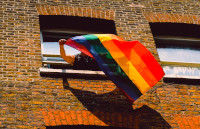 Gay Buddhist Fellowship - Monthly Gathering on Zoom
The Gay Buddhist Fellowship of London supports Buddhist practice in the gay men's community. We are a non-sectarian Sangha where gay men can meditate together and where existential and spiritual challenges related to sexual orientation can be shared in a friendly, non-judgemental environment.
This week we will host Prof. Bee Scherer who will give a Dharma talk 'Anātman and queerness' to the Gay Buddhist Fellowship of London.

Bee is director of INCISE, formerly at Christ Church University in Canterbury, and has published considerably in the field of Buddhism, Gender and Sexuality. Their particular focus is on the intersection of Buddhist Philosophy and Queer Theory.

Bee is also the Vice-President of the International Lay Buddhist Forum and is a long-term practitioner of Tibetan Buddhism.

This meditation + Dharma talk with Q&A will take place via Zoom (we'll mail you the link near the date) - those who want to contribute a donation (dana) can do so via the Shambhala website - a £5 donation is suggested if you can afford this.
The schedule of the meeting is:
2:00 PM: silent meditation (all participants meditate according to their own tradition)
2:30 PM: Dharma session (a Dharma teaching and/or group discussion)

Photo by Clem Onojeghuo on Unsplash