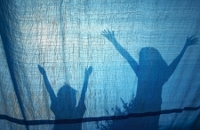 Online - Who am I? The Basic Goodness of Self
with David Hope
'Who Am I? The Basic Goodness of Self' is the first of the three courses of the Basic Goodness Series. This series looks at universal questions that have been asked throughout human history, from the perspective of the Buddhist and Shambhala teachings. The second course is called 'How Can I Help? The Basic Goodness of Others and Society', and the third is entitled 'What is Real? The Basic Goodness of the Phenomenal World'.
These courses present the teachings in an experiential way, with an emphasis on a personal understanding of their meaning, and how we can apply them in our lives. It is a journey which explores the implications of basic goodness for our experience of individuality, our relationship with others, and our connection with the reality of life itself.

This first course focuses on our sense of self. It includes teachings on basic goodness, selflessness, the arising of ego and the five skandhas, beyond the cocoon, buddha nature, and the confidence of warriorship. We will practice contemplative investigations of the self based upon the Four Foundations of Mindfulness, a core teaching from the Buddhist tradition.
The course will be held on the Zoom platform. It will include talks, guided contemplation and discussion.
Cost
The early bird registration fee of £75 is available until 11th February after which time the fee will be £90. A concession fee of £55 is available for those earning below £17,000 per annum and a concession fee of £45 is available for those earning below £12,000.
We don't want cost to be a barrier so if anyone is in financial hardship please feel warmly invited to get in touch to discuss further concessions. Please contact [email protected] to apply for a concession.
Repeat attenders
If you have previously attended this course and would like to do so again, you may attend for 50% of the price of either the full cost or the concessionary cost, depending on income, so either £45, £35, £27 or £22. Please contact [email protected] for a discount code.

Payment Terms and Conditions
Please register and pay in full on registration. Cancellation up to 1 week before the programme will receive a full refund, after that there will be a £20 fee charged for cancellation up until the 23rd September after which no refund is granted.
Additional Information
Timings: Zoom opens 7.25pm, start 7:30pm, finish 9:30pm
Please contact [email protected] if you have any questions