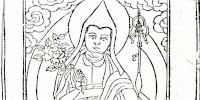 Reading Group Online - Reflections on Silver River: 37 practices of a Bodhisattva
THIS EVENT IS FULLY BOOKED
5 fortnightly gatherings to discuss and reflect on Ken McLeod's translation and commentary of Tokme Zangpo's '37 Practices of a Bodhisattva'
About this Event
The text we will study is called 'Reflections on Silver River: the Thirty Seven Practices of a Bodhisattva' Ken McLeod's translation and commentary on the work of Tokme Zangpo (b.1295 - d.1369).
Please note: Places are limited to 15, and the group requires 6+ participants to go ahead. Participants are requested to purchase a copy of the text in advance, but a scanned section will be provided ahead of the first meeting. There are secondhand copies on Abebooks.co.uk, and affordable copies via Blackwells and other good bookshops.
From the author:
'In this book you find a way of practice, a way that enables you to understand the wisdom and experience of this path, a way in which you are not sidetracked or confused by differences in culture or language and a way that you can take into your life. It is a good place to start a study and practice of the Buddhist traditions of Tibet because it is a simple and elegant summary of Mahayana Buddhism in this tradition.'
Facilitated by David Morris
From David: I first encountered Reflections on Silver River when staying at Gampo Abbey. Pema Chödrön encouraged us to read it, and to try out the contemplations and guided practices included in Ken McLeod's bright and accessible commentary. For me it resonates with the vibrant inspiration of the Mahayana. I am currently feeling the urge to reinvigorate my study and would like to join with others who would be interested to read the text in sections and then to discuss our experiences and questions, over 6 fortnightly sessions. Any questions please get in touch.
Fortnightly from 5:30 - 7pm from Monday 1st February until Monday 29th March.
Participants will be invited to make a donation to the London Shambhala Meditation Centre on a pay what you can afford model. Suggested donation £20, more details after sign up.
Please register via EventBrite here