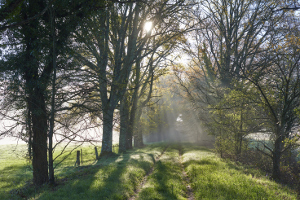 Online - Spring Retreat: Re-Entering Our World
with David Hope & Dr. Angela Newton
About the retreat:
The seasons are changing, things are getting warmer and lighter and coming back to life. At the same time our shops, schools, cafes, restaurants are reopening. We are being invited to re-enter our world: with tentativity, enthusiasm or both. This weekend retreat will focus on contemplating our relationship with the outside world and exploring our senses. There will be the opportunity to examine the anticipation, hesitation, or fears we might have around things changing, and how to re-engage with the places we live with mindful awareness.

There will be formal sitting, talks and discussion as well as practices and exercises to do while exploring our environment outdoors. There will also be the option for one-on-one meditation interviews if you would like one.
Schedule
Saturday 17th: 10am-5pm
Sunday 18th: 10am-5pm
About the Teachers
David Hope has been involved in Shambhala for 40 years. He helped establish the London Shambhala Centre in the early 1980's. He set up Shambhala Training in Britain and ran it for many years. Since then he has taught widely in Europe and other countries worldwide, including Australia, New Zealand and South Africa. He has been involved with Dechen Chöling, our residential practice centre in France, since its beginnings in 1995, as one of the first co-directors, and in many other ways. In 2005 he was appointed as Acharya (a senior teacher) for the Shambhala community, a position which he stepped down from in the June 2020.
Angie Newton has been a Shambhala practitioner since 1989, first in Durham, North Carolina, in London, from 2002 to 2009, and then Edinburgh until 2020. During that time she filled various roles, including Co-Director in London, and Co-ordinator in Edinburgh. She has been a meditation instructor since 2006 and a teacher since 2007. Most years she has joined or staffed retreats in Dechen Choling, France. She now lives in the Trossachs, Scotland, with her husband John and cats Harry (aka HarryBo, Ti Chin) and Ben (Furry-one Ben Kanobi).
Payment Terms and Conditions
Please register and pay in full on registration, please ensure you click on the relevant price option to go through to PayPal where you can also pay by credit/debit card. Cancellation up to 1 week before the programme will receive a full refund, after that there will be a £10 fee charged for cancellation up until 16th April after which no refund is granted.
Cost: £45 for 2 days, £25 for 1 day.
Use code HDUXNE to pay for a single day.
Please give details of which days you wish to attend in the comments box on the registration page.
We don't want cost to be a barrier so if anyone is in financial hardship, please feel warmly invited to get in touch for concessions.
Preparing for an online retreat:
It is important to set time aside for the retreat. Putting aside distracting technology during the retreat will be helpful.
Wear comfortable clothing.
Have a good internet signal for zoom sessions, and a camera so you can interact on video
Find a quiet, clean uplifted environment for the retreat, preferrably away from others in your house.
Tell housemates you're unavailable during practice sessions. You'll be able to catch up during breaks.
Have a comfortable chair or sitting cushion.
The Zoom link will be sent to you the day before the programme, please complete registration and payment to receive the link.