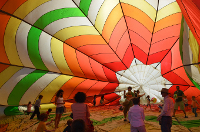 Online - How Can I Help? The Basic Goodness of Society
with Shastri Merlin Cox
'How Can I Help? The Basic Goodness of Society' is the second of three courses collectively called the Basic Goodness Series which offers us a powerful journey through the complete view and experience of basic goodness - our personal experience, our experience with others, and our relationship with the reality of life itself.
This course asks the question, "How can I help?" and explores our relationships with others, an aspiration to help our world, and specific aspects of social transformation. We look at a Shambhala understanding of society, and what enlightened society may be. Is society something that is ultimately confused, or is there goodness in human society?
The course focuses on transforming four aspects of society: relations with family (household), professional life, entertainment, and economy. We learn the traditional mahayana practice of "sending and taking" (tonglen).
In general the Basic Goodness Series presents teachings in an experiential way, with an emphasis on understanding the view and meaning of these teachings, and how they can be applied to our lives. They are intended to create learning communities where we can come together and reflect on our own experience and the world.
In addition to welcoming us into an experience of the wakefulness and dignity of being human, the Basic Goodness Series is also describing the underlying understanding of a social revolution. Shambhala vision is not limited to individual awakening; it is a vision for human society and "shifting" human history.
Each course consists of six classes. This course is open to all, though some prior experience of sitting meditation would be advantageous.
The course will be held on the Zoom platform. It will include talks, guided contemplation and discussion.
The course will run for 6 weeks, Thursday 8th July to Thursday 12th August 2021, 7.30pm-9.30pm
Cost
The early bird registration fee of £75 is available until 5th July after which time the fee will be £90. A concession fee of £55 is available for those earning below £17,000 per annum and a concession fee of £45 is available for those earning below £12,000.
We don't want cost to be a barrier so if anyone is in financial hardship please feel warmly invited to get in touch to discuss further concessions. Please contact [email protected] to apply for a concession.
Repeat attenders
If you have previously attended this course and would like to do so again, you may attend for 50% of the price of either the full cost or the concessionary cost, depending on income, so either £45, £35, £27 or £22. Please contact [email protected] for a discount code.

Payment Terms and Conditions
Please register and pay in full on registration. Cancellation up to 1 week before the programme will receive a full refund, after that there will be a £20 fee charged for cancellation up until the day before after which no refund is granted.
Additional Information
Timings: Zoom opens 7.25pm, start 7:30pm, finish 9:30pm
Please contact [email protected] if you have any questions