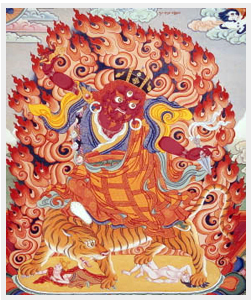 Sadhana of Mahamudra - Online
with Adam Hart
The Sadhana of Mahamudra is a practice written by Chögyam Trungpa Rinpoche, the founder of Shambhala, on retreat at Tagtsang, Bhutan in 1968.
The Sadhana of the Mahamudra combines Nyingma and Kagyu teachings and is open to all - novices and advanced students alike.
It can be appreciated simply as a beautiful poem, but also as a wonderful source of wisdom teachings. Its meanings and references become clearer, over time, to the regular practitioner.
This is a practice for our times; it can help us to come together, strengthen our connection to these lineages, uncovering the space and energy to lessen our spiritual materialism and egocentricity.
It can be practiced alone or in a group session at any time, but best on the new moon.
We will practice this Sadhana in the form that Chogyam Trungpa first introduced it, without additional chants or supplications but with short periods of meditation at the start, and between sections.
At the end of the practice we will discuss anything that arises.
Everyone is welcome!
Free of charge.
Join us online via Zoom using this link.
7:30pm Zoom opens, 9.00pm finish.
You will need a copy of the text from here
For further information please contact [email protected]