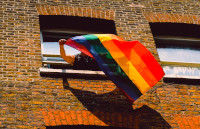 Gay Buddhist Fellowship - Monthly Gathering
The Gay Buddhist Fellowship of London supports Buddhist practice in the gay men's community. We are a non-sectarian Sangha where gay men can meditate together and where existential and spiritual challenges related to sexual orientation can be shared in a friendly, non-judgemental environment.
Those who want to contribute a donation (dana) can do so via the Shambhala website - a £5 donation is suggested if you can afford this.
The schedule of the meeting is:
2:00 PM: silent meditation (all participants meditate according to their own tradition)
2:40 PM: Socialising (with the opportunity to continue after the session closes at 3pm)

Photo by Clem Onojeghuo on Unsplash