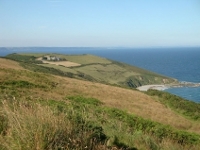 Coming to our Senses: a meditation retreat
with Tessa Watt & Vinita Joseph
A six-day retreat at Lamledra House on the South Cornwall coast taught by Tessa Watt and assisted by Vinita Joseph. Sunday 6th – Saturday 12th March 2022.
If the pandemic has taught us anything, it is that life is short and precious and that nothing can be taken for granted. As we emerge from winter into spring, this retreat will wake us up to the richness and sacredness of the world. We will explore how our senses act as an antidote to the discursive chatter of the mind. We will engage with the five senses both literally and as metaphors for how we relate to our moment-by-moment experience. By sensing our place in things, we will touch our hearts and explore how our embodied presence can be of benefit to ourselves, to others and to our world.
The retreat will offer periods of extended meditation practice and is recommended for participants with some experience of basic sitting meditation or mindfulness practice.
Lamledra (http://lamledrahouse.co.uk/index.htm) is a spacious Edwardian house in a secluded setting overlooking the sea, in an area of outstanding natural beauty.
If you are interested in attending this retreat and would like further information, please email [email protected]. The cost is £550; some concessions are available. The maximum number of participants is 14, so early applications are recommended.