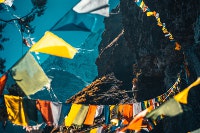 February Day Retreat
with David Schneider
Mahayana Day Retreat Series: The Paramitas
Feb 5th: teaching by David Schneider
Our day retreats on the first Saturday of the month will recommence on February 5th, continuing our offering of a day to deepen meditation practice, share contemplative lunch and tea, and hear a Dharma talk or teaching. These events are planned to take place in-person.
This series of six will focus on the paramitas, concluding in July. You can sign up to one, some or all of the series, but attending the first session, taught by senior teacher David Schneider, is recommended. Via Zoom, David will be introducing the paramitas, a set of six (or sometimes ten) qualities that the Mahayana Buddhist tradition encourages us to develop in our lives; Generosity; Discipline; Patience; Joyful Exertion; Meditation; Prajna (wisdom).
David will also give an introductory talk on general principles of the Mahayana, comparing it with, and contrasting it to, previous approaches to practice. Therefore the series is open to people in the early stages of exploring the spiritual path as well as those who have already studied this material to some extent.
Anyone interested attending who has not yet begun to meditate is welcome to do so following attendance at one of our Thursday night sessions. There, one can receive an introduction to meditation practice.
The following five day retreats will focus on the further qualities, with talks from a variety of teachers:
March 5th: Generosity
April 2nd: Discipline
May 7th: Patience
June 4th: Joyful Exertion
July 9th: Meditation
Arrival from 9.30am, sitting will start at 10.00am, the day closes at 5pm.
The cost is £20 and includes lunch and tea. A concession fee of £15 is available to anyone that has an income below £12,000, please contact [email protected] to arrange a concession.