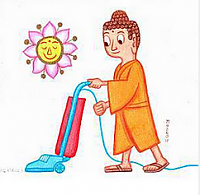 Neutral Day - Inviting the Dralas
On Monday, the day before Shambhala Day, we will gather together as a community for the traditional Neutral Day activity: cleaning!

Neutral Day falls between Dön season, the end of the previous year, and the fresh start of the New Year. As we prepare to enter the Year of the Earth Pig, it is a time to clear away obstacles and negativity that have gathered over the year by cleaning our space, psychologically and physically. Join us at the Shambhala Centre for this festive day of cleaning as we clear out the cobwebs and uplift the Centre.
Save the date: joyful cleaning to take place from 2pm. Please register if you are at all available during the day to help with this activity.