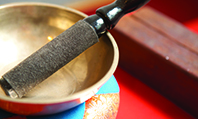 MI / Guide Morning
with James O'Neill
10am - 11:30am: Process Groups with Jim O'Neill
11:30am - 12pm: Coffee and social time- please let us know if you could offer cake!
12pm - 1pm: General discussion of what's alive or challenging for us in our MI/Guide role and our practice/path generally
Process Groups

As Meditation Instructors and Guides we are often called upon to be skilled communicators in groups, to help people express difficult emotions in challenging situations. The basis of Process Groups is learning how to speak in ways that can open up and relate from a place of personal responsibility. We learn to talk kindly to each other but also to say things that we may feel are difficult or can never be said. It may be simple things that we wish to say, like "I think you don't like me", or "I admire you so much that I feel intimidated and shy when I'm with you." We tend often to get entangled in projections when we relate with others and can get caught up in these for a whole lifetime. We write people off, ignore others, dislike or feel nervous around someone and not able to go any further. Process groups provide a safe and contained venue to challenge these projections, to open up, to enjoy relating to others on the basis of kindness, respect and tenderness.

Jim O'Neill is a Buddhist and Shambhala Training Teacher, a Psychotherapist and Faculty Member of Karuna Training.