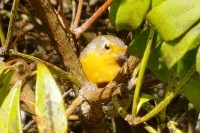 Easter Weekend Meditation Retreat
with Dr. Angela Newton
"It's extraordinarily powerful that we decide just to sit, not hangout or perch, but just sit on a meditation cushion. Such a brave attitude, such a wonderful commitment is magnificent. It is very sane, extraordinarily sane." – Chogyam Trungpa
It is recommended that students have prior meditation experience.
This weekend of sitting practice offers us the opportunity to deepen our relationship with the simple yet profound practice of shamatha meditation. In these times of speed, deadlines, and subtle aggression, we benefit greatly from allowing our minds and hearts to rest and settle during extended practice sessions.
In particular in this weekend, in addition to sitting meditation, we will explore our senses as a means of waking up to the present moment. Both in the Centre and outdoors, we will use contemplation exercises to work with our sense perceptions.
The weekend is offered as four sessions. Participants are welcome to attend as many or as few as they wish. Please note that we may go outdoors for some sessions (weather permitting) so please turn up on time. Bring shoes or boots suitable for walking on grass, and clothing appropriate for the weather. We do ask that, where possible, you aim to arrive in time and stay for the duration of a given session, in order to minimise disturbance for all.
Saturday
10:00am – 12:30pm
2:00pm – 4:30pm
Sunday
10:00am – 12:30pm
2:00pm – 4:30pm
Arrival from 9:45am for morning sessions.
Arrival from 1:45pm for afternoon sessions.
No need to register - just turn up. There is a suggested donation of £10 per session, although we invite contributions on a dana basis – i.e. we are grateful to receive whatever amount you feel able to offer.
This weekend will be led by Dr. Angela Newton
Angie Newton has been meditating with Shambhala since 1989, a Shambhala Guide and then an MI since 2006, and has been teaching since 2007. She was Co-Director of LSMC from 2006 to 2009, and now lives in the Loch Lomond and Trossachs National Park, Scotland.
Additional Information
Lunch will not be provided. There are a number of cafes, restaurants and local supermarkets in the area, as well as a food market on Saturdays just a few minutes from the centre.
Click here if you wish to attend an open meditation session but cannot make it to this weekend.
For queries, etc., please e-mail: [email protected]