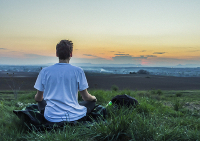 Basic Goodness Retreat: Shambhala Training Level 1
with Jim O'Neill
A Weekend Retreat devoted to the practice of sitting meditation and the discovery of basic goodness.
Open to students at all levels of practice (half price to those who have previously attended Level 1)
This taught City Retreat is for students who wish to begin Shambhala Training and also for those who are already on the Shambhala Path and wish to deepen their connection with the practice of meditation. It is the first of five courses which comprise the profound and practical teachings from Heart of Warriorship, discovered by Chogyam Trungpa Rinpoche while he was still in Tibet.
These teachings are always fresh. They remind us, as if for the first time, to trust ourselves, how to live a sane and good life and how to relax and see beyond the confusion and suffering of everyday life. We have the capacity to do this, but that depends upon our maintaining a strong connection with basic goodness, awakened heart, soft spot. We know this to be true, just as we know that meditation strengthens and develops our courage and cuts anxiety, but we forget. Retreats, even short ones like this, remind us to keep meditation practice a stable core in daily life.
About the teacher
The retreat will be taught by Jim O'Neill, senior Buddhist and Shambhala teacher, Psychotherapist and author of UNDRESSING, Short Books, 2019.
Further Information
9am - Tea/coffee & registration
9.30am - Start
6:30pm - Finish
Lunch will be provided. Please include details of any allergies, etc. in the comment box on the registration screen.
For further information please email: [email protected]
Cost:
£130 (for concessions see below) for people doing Basic Goodness Retreat (Shambhala Training Level One) for the first time.
£65 (concessions apply) for those who have already completed Level One and wish to join the retreat.
The early bird registration fee of £110 is available until 14th March after which time the fee will be £130. A concession fee of £80 is available for those earning below £17,000 per annum and a concession fee of £60 is available for those earning below £12,000. For those repeating Level One, there is a concession fee of £50 available to those earning below £12,000.
Please contact [email protected] to request a concession.
Payment Terms and Conditions
Please register and pay in full on registration, ensuring you click on the relevant price option to go through to PayPal where you can also pay by credit/debit card. Cancellation up to 1 week before the programme will receive a full refund, after that there will be a £20 fee charged for cancellation up until the 27th March after which no refund is granted.
Please follow this link to information on the allegations of sexual misconduct in Shambhala