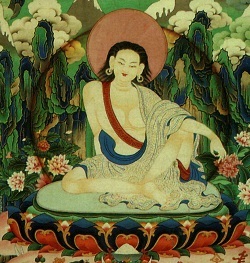 The Practice Lineage: Opportunity for Lungs
with Larry Mermelstein
A wonderful opportunity to connect with our Kagyu and Nyingma heritage on Milarepa Day!
After his
morning talk
for the Vajra Sangha, Larry will be offering the
Karma Kagyu Ngöndro
transmission and
Avalokiteshvara
Sadhana for all Tantrikas, as well as the lung for
Krodhikali
(Wrathful Black Vajrayogini) and the short
Vajrayogini
Sadhana of the Vidyadhara to the Sadhakas. Other lungs will be offered by request and as time allows. It would be helpful to hear from prospective participants about their individual practice needs and wishes. Please email
[email protected]
for any such indications of interest.
Please note that there is no fee for joining. However, should you wish to support the work of the Nalanda Translation Committee and/or make a personal donation to Larry, then that is perfectly appropriate and in fact customary in the form of a heart-gift based on whatever you personally feel is within your means (the principle of dana, or generosity).
Perhaps you are also interested in joining the
evening event
on Saturday? This will be an open question and answer format.
About Larry
In 1971, Larry Mermelstein became a close student of Chögyam Trungpa Rinpoche, Tibetan Buddhist meditation master and scholar. Subsequently, he served as an Acharya in the Vajradhatu/Shambhala community for twenty years (1996-2016), as well as being a member of the board of directors for nearly that long. Larry is a founding member and the Executive Director of the Nalanda Translation Committee for over forty years and is a long-time consulting editor to Shambhala Publications.