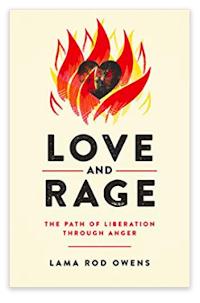 Online - A Book Reading with Lama Rod Owens | Love and Rage
Lama Rod Owens—the dharma teacher, meditation and mindfulness instructor and co-author of the best-seller Radical Dharma—explores with grace and candor the power and uses of anger.
In Love and Rage: The Path of Liberation Through Anger, he shares his personal journey with rage—how, at a young age, he internalized the belief that his anger was dangerous. "I have seen over and over again," he tells us, "that anger can get me killed. I know that this is how I have survived in a Black queer body in America. My fear of death and policing has translated into a self-policing of my anger to such an extent that if it weren't for my meditation practice, I wouldn't know how to find my anger."
Owens frames his approach within accessible Buddhist philosophy and contemplative practice, offering meditation exercises throughout the book to help readers recognize, honor and tap into their anger. Many practices focus on self-preservation and self-care.
In a time when the politics of anger—who gets to be angry, how, when and at whom—infuse every institutional and cultural sphere, Owens offers a radical re-envisioning of a deeply timely topic. Love and Rage will resonate with many: young adults, activists, political organizers, Buddhists, POC, those living in marginalized bodies and anyone who wants to metabolize or harness their anger for change.
Timing
Zoom opens 7.20pm, start 7.30pm, finish 9.00pm. Please register to receive the Zoom link for this event.

Suggested Donation
£10/£7 low wage/£5 concession - however, finances should not be a reason for not participating. The evening is based on whatever people feel is within their inspiration and personal means (the principle of dana, or generosity) - please join us regardless of your circumstances. Donations will go towards supporting both Lama Rod and the London Shambhala Centre.

Contact [email protected] for more information.