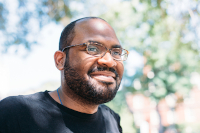 Online - Love and Fear During Times of War with Lama Rod Owens
The world is having a difficult moment. Each day we learn of a different conflict or crisis, which threatens the lives of so may people. It is easy to live with a lot of fear right now and it is even easier to react out of that fear was well.
When we react out of fear we tend to create much more harm in the world. This is a time of darkness and war and fear lies at the heart of much of the violence we are experiencing.
How do we befriend our fear and offer it permission to teach us how to move through it into a state of freedom? How do we use our fear to connect to the fear so many other people are experiencing? Ultimately, how do we begin to love what is unlovable, especially our fear?
During our time together, we will call on the teachings of Buddhadharma as well as our own intrinsic wisdom to lean into our fear with love.
Timing
Zoom opens 7.20pm, start 7.30pm, finish 9.00pm. Please register to receive the Zoom link for this event.

Suggested Donation
£10/£7 low wage/£5 concession - however, finances should not be a reason for not participating. The evening is based on whatever people feel is within their inspiration and personal means (the principle of dana, or generosity) - please join us regardless of your circumstances. Donations will go towards supporting both Lama Rod and the London Shambhala Centre.

Contact [email protected] for more information.