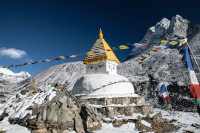 Gay Buddhist Fellowship - Monthly Gathering at Shambhala London
The Gay Buddhist Fellowship of London supports Buddhist practice in the gay men's community. We are a non-sectarian Sangha where gay men can meditate together and where existential and spiritual challenges related to sexual orientation can be shared in a friendly, non-judgemental environment.

The schedule of the meeting will be as usual a meditation session followed by group discussion:
2:00 PM: Welcome and Meditation
All participants will be able to meditate in their own tradition.
2:30 PM: Group discussion:
What's your view on GBF?
What topics would you like GBF to cover?
Can GBF support you during the pandemic?

Unfortunately, places are limited due to the COVID-19 pandemic places and so we would like you to register, please click the register button on this page.