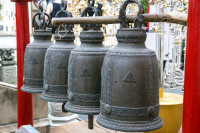 Online - The Four Reminders
with Barbara Märtens
The four reminders have been expressed repeatedly by all lineage holders. They expose the bone-jarring experience of our daily life, which we usually try to pad with material comfort. They lead us away from our preoccupation with avoiding pain and seeking gain, and guide us toward seeing the true nature of our mind and our world. Then, having glimpsed things as they are, we are inspired to devote ourselves to benefiting others.
Joyful to have
Such a human birth,
Difficult to find,
Free and well-favored.

But death is real,
Comes without warning.
This body
Will be a corpse.

Unalterable
Are the laws of karma;
Cause and effect
Cannot be escaped.

Samsara
Is an ocean of suffering,
Unendurable,
Unbearably intense.

Composed by the Vidyadhara Chögyam Trungpa Rinpoche
© 1974 by Chögyam Trungpa
This course will take place over 4 consecutive Thursday evenings from the 14th Jan - 4th Feb. Each week, we will explore one of the reminders.
Additional Information
Timings: Start 7.30pm, finish 9pm, Zoom opens 7.25pm
Cost
The fee is £60. A concession fee of £45 is available for those earning below £17,000 per annum, please email for a concession code - [email protected].
We don't want cost to be a barrier so if anyone is in financial hardship, please feel warmly invited to get in touch for further concessions.
Please contact [email protected] with any queries. A Zoom link will be provided once registration and payment have been completed.
Payment Terms and Conditions
Please register and pay in full on registration, please ensure you click on the relevant price option to go through to PayPal where you can also pay by credit/debit card.
Cancellation up to 1 week before the programme will receive a full refund, after that there will be a £10 fee charged for cancellation up until the 13th Januray after which no refund is granted.
Photo by Milada Vigerova on Unsplash