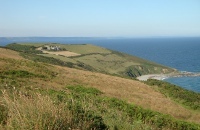 Lamledra Retreat - Working with Anger
with Barbara Märtens & Jude Hudson
"This is the darkest hour of the Dark Ages in which disease, famine and warfare are raging like the fierce north wind." Chögyam Trungpa Rinpoche
The energy of anger is an inherent part of our nature. We need to find a way to make a greater connection between the anger and ourselves - to work with the energy of anger so it doesn't manifest as aggression - and to tap into its inherent wisdom.
We will approach the topic through talks and discussion, practicing shamatha meditation and contemplation. We will have alternating periods of silence and speaking. The retreat is open to all. It will be held at Lamledra House on the south coast of Cornwall (http://lamledrahouse.co.uk/index.htm).
If you are interested in attending this retreat and would like further information, please email [email protected]. The maximum number of participants is 14, so early applications are recommended.