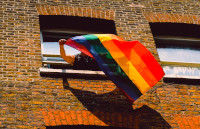 Gay Buddhist Fellowship - Monthly Gathering in Clapham
Join us on Sunday 6 June 2021 for the official re-launch of the Gay Buddhist Fellowship of London.
Our first start up was unfortunately just before the first COVID-19 lockdown. On 6 June we take a fresh start at the London Shambhala centre with some joint meditation and socialising (in the garden if the weather permits it). Biscuits, tea and wine will be provided.
The schedule of our re-start meeting is:
2:00 PM: silent meditation (all participants meditate according to their own tradition)
2:30 PM: socialising (biscuits and refreshments will be provided)
Those who are up for it can join us for a drink in a pub afterwards.
The Gay Buddhist Fellowship of London supports Buddhist practice in the gay men's community, whether you are a member of a Buddhist tradition or not. We are a non-sectarian Sangha where gay men can meditate together and where existential and spiritual challenges related to sexual orientation can be shared in a friendly, non-judgemental environment.
Those who want to contribute a donation (dana) can do so via the Shambhala website - a £5 donation (mainly for the rent of the venue) is suggested if you can afford this.

Photo by Clem Onojeghuo on Unsplash