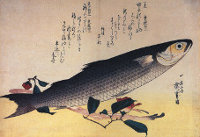 Summer Retreat - Freedom to Choose Something Different
with Jane Hope
In Buddhism there is a word that describes the process in which
certain habits of mind tend to take us captive and we get stuck in patterns of anger, blame, self-hatred and addiction. This word is 'shenpa'. Shenpa is the root of all of our compulsive, reactive behaviour and our craving and attachment. It is the feeling of restlessness and agitation which seeks to find anything to make it feel better.
Pema Chodron uses the expression 'getting hooked'. It's like a fish going after a hook – it sees something delicious, goes after it and then gets hooked. The fish is caught. We will be looking at ways in which we can begin to recognise these patterns. The key thing is learning to face the difficulties and insecurities of our daily lives in a different way. On the retreat we will be looking at 'the four R's of working with shenpa: Recognising, Refraining, Relaxing and Resolving. We will learn ways of seeing that we do not always need to bite the hook.
Timing: 9.30am - 5.30pm
Cost £160, Concessions available, please contact the London Shambhala centre for details.

All applications should be made by email to [email protected].org.uk
It may be possible to attend via Zoom, but we cannot confirm this option until we know we have the technical staff to make it happen.