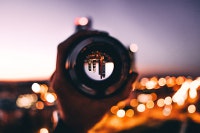 Online - The Four Noble Truths
with Orhun Cercel
A foundational Buddhist teaching, the Four Noble Truths are: the truth of suffering, the truth of the cause of suffering, the truth of the end of suffering, and the truth of the path that leads to the end of suffering.
The Four Noble Truths are a very broad topic and so how they are explored over the programme can be adapted to the group of participants. Orhun will bring into the classes the issues that have arisen in the meditation and Buddhist world over the last three years. There will also be a strong 'body' element into the classes, experimenting with body and movement drawing on teachings on this subject that have been emerging, connected with the pandemic, health issues, and the restrictions they have placed on movement.
About the Teacher

Orhun Cercel comes from a Turkish background and his father was a diplomat, so he travelled a lot in his childhood. "I was brought up in Taiwan, Turkey, Italy and Argentina, before coming to the UK". He studied economics and international relations at Cambridge University before starting a job in the city, working as a financial analyst. "Because of the stresses of my job I learned to meditate in 1990". Eventually he left finance and became interested in psychology and Chinese medicine. He studied with a number of eminent Buddhist teachers as well as teachers from other spiritual traditions. He has taught extensively throughout Europe. In 2008 he undertook the Six Yogas of Naropa retreat in Gampo Abbey for a period of eight months. In 2012 he was appointed as Acharya or senior teacher, an official position from which he resigned in June 2020. He currently works as a counsellor, acupuncturist, meditation coach and herbalist.
The course will be held on the Zoom platform and will run for 6 weeks, Thursday 7th October to Thursday 11th November 2021, 7.30pm-9.30pm
Cost
The early bird registration fee of £75 is available until 4th October after which time the fee will be £90. A concession fee of £55 is available for those earning below £17,000 per annum and a concession fee of £45 is available for those earning below £12,000.
We don't want cost to be a barrier so if anyone is in financial hardship please feel warmly invited to get in touch to discuss further concessions. Please contact [email protected] to apply for a concession.


Payment Terms and Conditions
Please register and pay in full on registration. Cancellation up to 1 week before the programme will receive a full refund, after that there will be a £20 fee charged for cancellation up until the day before after which no refund is granted.
Additional Information
Timings: Zoom opens 7.25pm, start 7:30pm, finish 9:30pm
Please contact [email protected] if you have any questions